January, 25 2013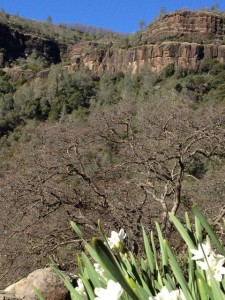 Cliffs at the Chico Canyon Retreat Center, Forest Ranch, CA
In Richard Louv's bestseller, Last Child in the Woods, he describes numerous studies showing that children learn and develop better when they spend time in nature. New outdoor education programs for children are sprouting in many corners of the country in response to this research and to relieve problems caused by ADD and ADHD.
Adults have Nature Deficit Disorder too and benefit greatly from time spent outside. Too often though, we hike or bike through nature as if it were a big gym, a setting for our exercise program. Taking time to tune into the sound of bird songs, the way the breeze feels on our skin, the colors of plants and the signs of animal tracks, awakens something deep within us.
Our ancestors lived in close connection with nature. They read details in the landscape the way we read words in a book. We essentially have the same brains our ancestors did and when we connect closely with nature we reclaim more of our complete brain function. More peace of mind. Better focus. Enhanced cognition and memory.
Take a break now and step outside if you can.  Pause and look up at the sky and notice the clouds and sunlight, or moon and stars. Breathe in the scents on the wind. Look in all directions. Notice if you feel a shift even after just 5 minutes. When you have more time, bundle up and sit quietly outside for 20 minutes.
To experience this more deeply, consider joining a day long retreat called Nurture in Nature that I'm offering on February 16 in Forest Ranch, just east of Chico, California.  Together with my colleague, photographer and psychotherapist Suzanne Lorenz, we will practice nature awareness exercises. The afternoon will include creativity exercises to further enhance that magical feeling of flow in our body and spirit.
The setting is the stunningly beautiful Chico Canyon Retreat Center, a place that uplifts my soul every time I go there.
For more information visit the Nurture in Nature page on my website.
https://www.mybodywisdom.net/showcase/nurture-in-nature/